OSCAR
(M) 2004? - 2017.
Someone had young Oscar neutered and front-declawed. Somehow he fended for himself, even preferred the outdoors.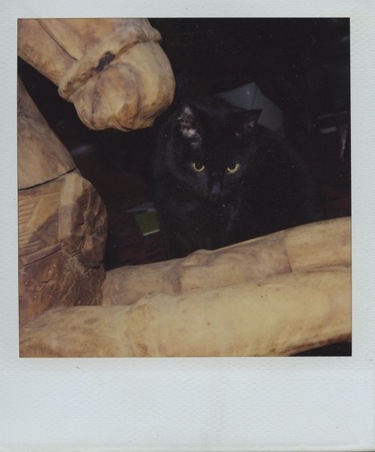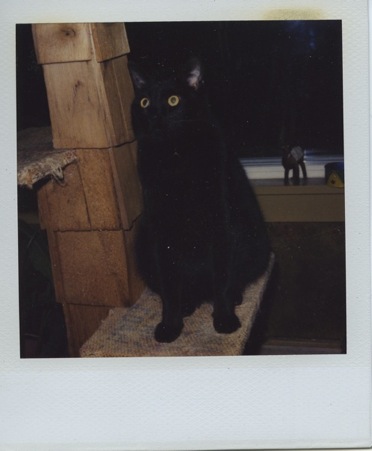 Images by
K. L. Slusher
A friend of Ken's noticed Oscar returning to scavenge a swept encampment and trapped him. Late that year (2006) when Ken was between cats, the friend brought Oscar to Ken.
Always Slusher's cat, Oscar wormed his way into my heart. Not a sweet cat but capable of sweet moments. A neighbor pronounced him a 'good cat'.
Died September 21st.
cat index
---
Pictures from 2011 illustrate rare moments of peace in the blended family: Oscar,
Harley
, and
Reebok
.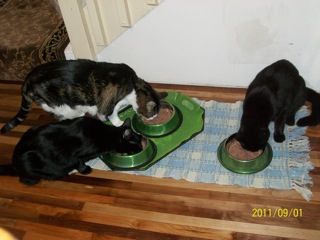 The following pictures were when the
Laptop
,
Mitre
.
Harley
,
Reebok
foursome gave me a "clowder / cluster or clutter / glaring of cats".
Big cats, mainly. After the first of the big cat trees arrived I took pictures of
Laptop
and
Reebok
with a tape measure to illustrate proportions for my subsequent trees.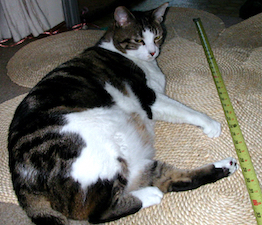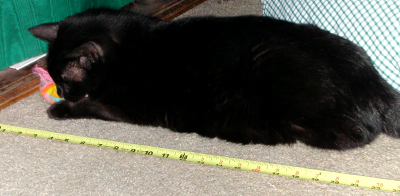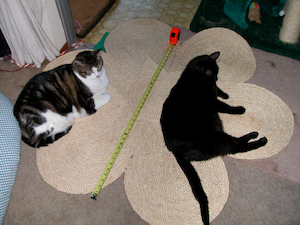 cat index
---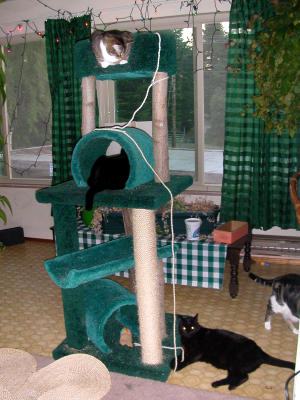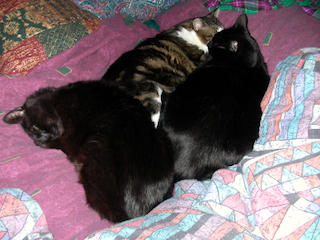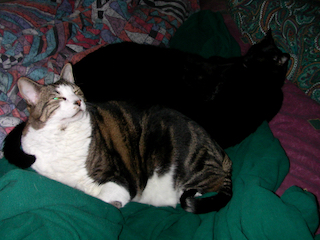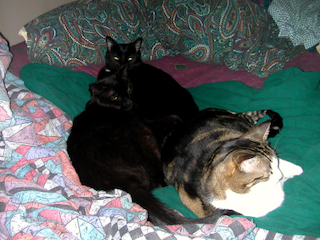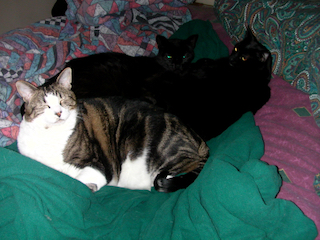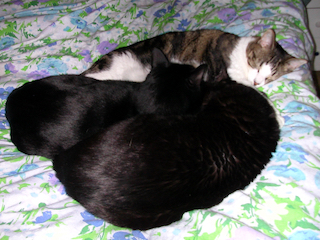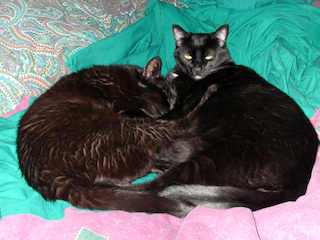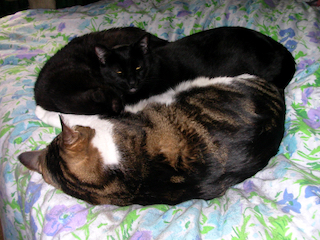 Some older pix of younger cats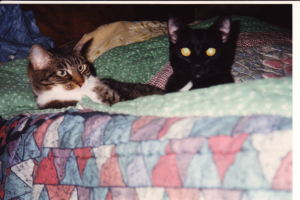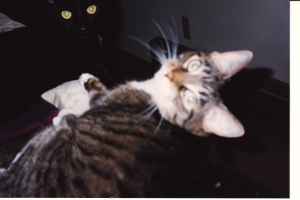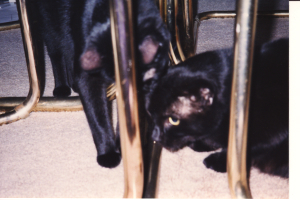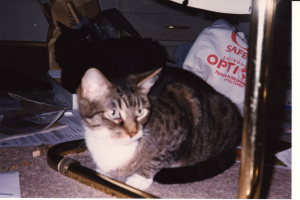 cat index
---
REEBOK
(M) 1996 - 2013.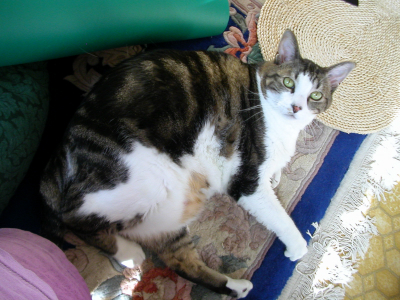 Harley
and Reebok were fostered together and joined the family at the same time in 1996 June.
Reebok ever crossing and re-crossing front paws. Beautiful green eyes.
Born around May First; died March 7th.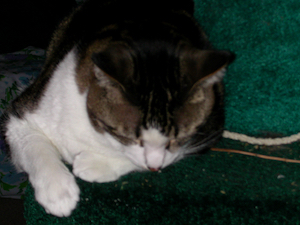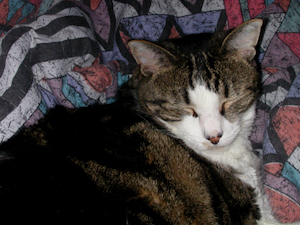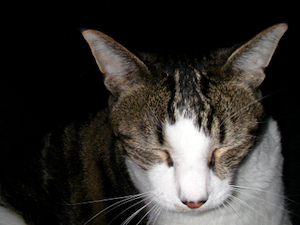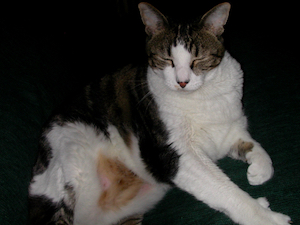 cat index
---
HARLEY
(M) 1996 - 2012.

Harley and
Reebok
were fostered together and joined the family at the same time in 1996 June.
Pantherific Harley cat! Black except white tie, bra and bikini. Unmatched cattitude. Faithful companion to
Laptop
.
Born mid-April; died December 5th.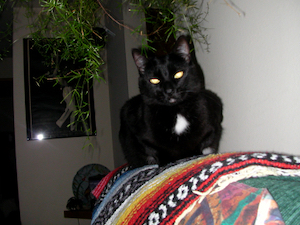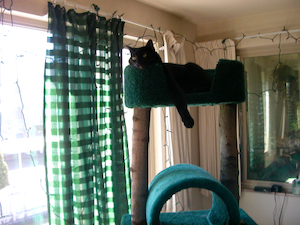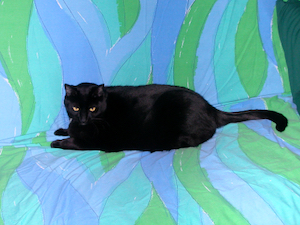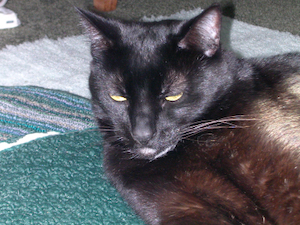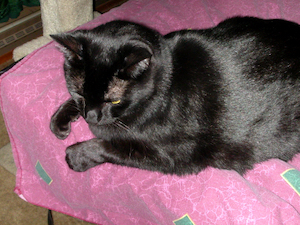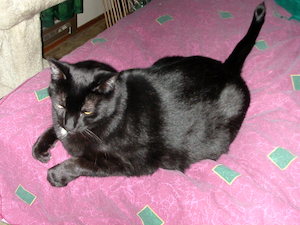 cat index
---
MITRE
(F) 1993 - 2007.

Sassy Miss Mitre. Born mid-June; died August 8th. She was the youngest kitten I'd been around in a long time.
The then-husband said he found her in a parking lot while he was running an errand. The story: the kitten approached him and played with his shoe laces on his way in to the store and then again pounced on his shoelaces when he left the store.
He brought her home to me and
Laptop
, and gave me the choice of naming her 'Umbro' or 'Mitre'.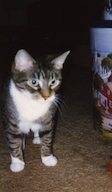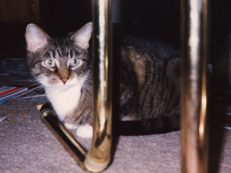 Mitre had great catitude. She shared affection on her own terms. Not a lap cat by any means. Liked to rub against ankles. Even though altered, she continued to display the writhing and wriggling dance of a queen. Often she'd use props: most commonly plastic grocery bags or my socks. Although Mitre danced with
Laptop
present,
Harley
and
Reebok
were seldom in the room when she danced. Her feminine energy was unmistakable and it was nice having another girl around. She had the softest fur I've ever touched. She is profoundly missed.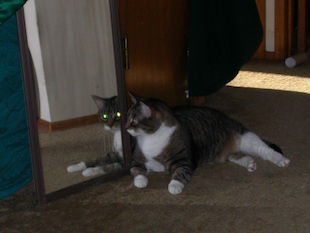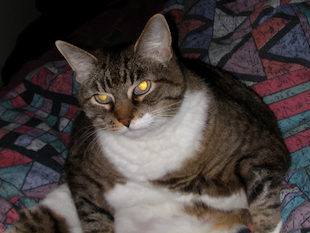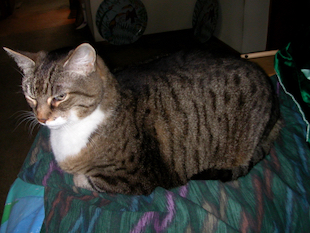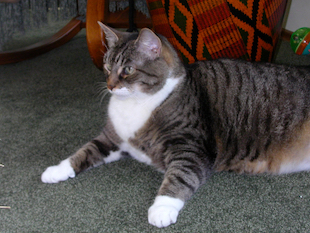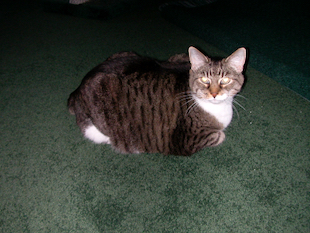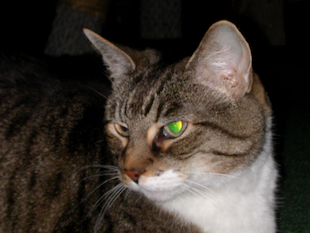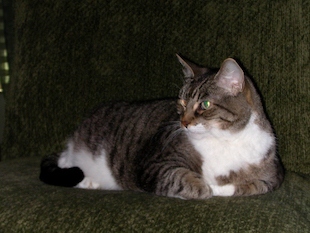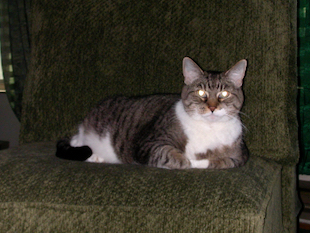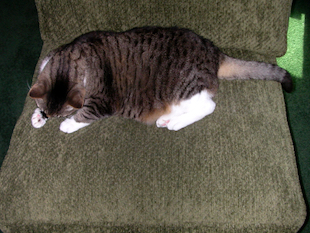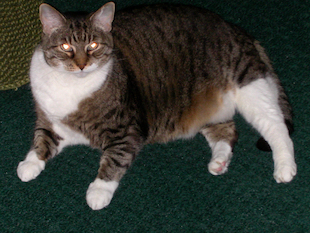 cat index
---
Louie
Baby
&nbsp&nbsp&nbsp&nbsp&nbsp&nbsp&nbsp&nbsp&nbsp
Harley
&nbsp&nbsp&nbsp&nbsp&nbsp&nbsp&nbsp&nbsp&nbsp
Laptop
&nbsp&nbsp&nbsp&nbsp&nbsp&nbsp&nbsp&nbsp&nbsp
Mei-Ling
&nbsp&nbsp&nbsp&nbsp&nbsp&nbsp&nbsp&nbsp&nbsp
Mitre
&nbsp&nbsp&nbsp&nbsp&nbsp&nbsp&nbsp&nbsp&nbsp
Oscar
&nbsp&nbsp&nbsp&nbsp&nbsp&nbsp&nbsp&nbsp&nbsp
Reebok
Clowder / cluster or clutter / glaring of cats


home
comment on this page